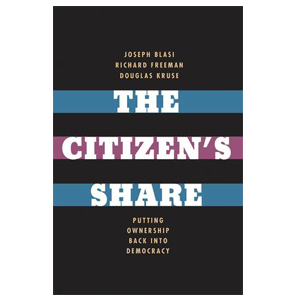 The idea of workers owning the businesses where they work is not new.  In America's early years, Washington, Adams, Jefferson, and Madison believed that the best economic plan for the Republic was for citizens to have some ownership stake in the land, which was the main form of productive capital. This book traces the development of that share idea in American history and brings its message to today's economy, where business capital has replaced land as the source of wealth creation.
Based on a ten-year study of profit sharing and employee ownership at small and large corporations, this important and insightful work makes the case that the Founders' original vision of sharing ownership and profits offers a viable path toward restoring the middle class. Blasi, Freeman, and Kruse show that an ownership stake in a corporation inspires and increases worker loyalty, productivity, and innovation. Their book offers history-, economics-, and evidence-based policy ideas at their best.
President Lincoln's Speaker Galusha Grow finally retired from the House of Representatives in 1902; he gave one last speech on "Labor and Capital." Having seen both the successes and limitations of the Homestead Act, where the distribution of land was facilitated by the federal government, he proposed that because there were growing limitations on capital in the form of land, the future will be in assisting property ownership via shares of corporations. Profit and equity sharing could be used to provide access to property rights to workers in the new industrialized economy. - Galusha A. Grow, the "father of the Republican party"
"I have viewed full employment as a top priority goal for this country. But I also recognize that capital, and the question of who owns it and therefore reaps the benefit of its productiveness, is an extremely important issue that is complementary to the issue of full employment. I see these as the twin pillars of our economy: Full employment of our labor resources and widespread ownership of our capital resources. Such twin pillars would go a long way in providing a firm underlying support for future economic growth that would be equitably shared."- Hubert H. Humphrey, U.S. Senator (D-Minn.) Washington D.C.
"More than 100 years ago, Abe Lincoln signed the Homestead Act making it possible for our people to own land. This was a revolutionary development. Ownership of land in most of the world had not been possible for the ordinary citizen.... The Homestead Act set the pattern for American capitalism.... Now we need an Industrial Homestead Act, and that isn't impossible." - Radio commentary, "Tax Plan No. 1," /Viewpoint with Ronald Reagan/, February 1975.
"Instead of being a cog in a machine, workers who have decision making power over their jobs come to work with a sense of satisfaction that relatively few employees have in our economy today!" -- Senator Bernard Sanders, self-described democratic socialist from Vermont, in his address to attendees of the 2012 Las Vegas Conference and Trade Show by ESOP Association
"I can't help but believe that in the future we will see in the United States and throughout the Western World an increasing trend toward the next logical step, employee ownership. It is a path that befits a free people." President Ronald Reagan, fortieth President of the United States, Speech on Project Economic Justice