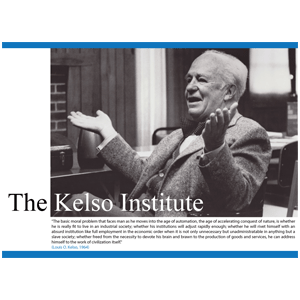 Louis O. Kelso (1913-91) was a political economist in the classical tradition of Smith, Marx and Keynes. He was also a corporate and financial lawyer, author, lecturer and merchant banker who is chiefly remembered today as the inventor and pioneer of the Employee Stock Ownership Plan (ESOP), the prototype of the leveraged buy-out which Kelso invented to enable working people without savings to buy stock in their employer company and pay for it out of its future dividend yield.
Kelso invented the ESOP in 1956 to enable the employees of a closely-held newspaper chain to buy out its retiring owners. Two years later Kelso and his co-author, the philosopher Mortimer J. Adler, explained the macro-economic theory on which the ESOP was based in The Capitalist Manifesto (Random House, 1958). In The New Capitalists (Random House, 1961), the two authors present Kelso's financial tools for democratizing capital ownership in a private property, market economy. These ideas were further elaborated and refined in Two-Factor Theory: The Economics of Reality (Random House, 1967) and Democracy and Economic Power: Extending the ESOP Revolution Through Binary Economics (Ballinger Publishing Company, Cambridge, MA, 1986; reprinted University Press of America, Lanham MD, 1991), both co-authored by Patricia Hetter Kelso, his collaborator since 1963.
President Lincoln's Speaker Galusha Grow finally retired from the House of Representatives in 1902; he gave one last speech on "Labor and Capital." Having seen both the successes and limitations of the Homestead Act, where the distribution of land was facilitated by the federal government, he proposed that because there were growing limitations on capital in the form of land, the future will be in assisting property ownership via shares of corporations. Profit and equity sharing could be used to provide access to property rights to workers in the new industrialized economy. - Galusha A. Grow, the "father of the Republican party"
"I have viewed full employment as a top priority goal for this country. But I also recognize that capital, and the question of who owns it and therefore reaps the benefit of its productiveness, is an extremely important issue that is complementary to the issue of full employment. I see these as the twin pillars of our economy: Full employment of our labor resources and widespread ownership of our capital resources. Such twin pillars would go a long way in providing a firm underlying support for future economic growth that would be equitably shared."- Hubert H. Humphrey, U.S. Senator (D-Minn.) Washington D.C.
"More than 100 years ago, Abe Lincoln signed the Homestead Act making it possible for our people to own land. This was a revolutionary development. Ownership of land in most of the world had not been possible for the ordinary citizen.... The Homestead Act set the pattern for American capitalism.... Now we need an Industrial Homestead Act, and that isn't impossible." - Radio commentary, "Tax Plan No. 1," /Viewpoint with Ronald Reagan/, February 1975.
"Instead of being a cog in a machine, workers who have decision making power over their jobs come to work with a sense of satisfaction that relatively few employees have in our economy today!" -- Senator Bernard Sanders, self-described democratic socialist from Vermont, in his address to attendees of the 2012 Las Vegas Conference and Trade Show by ESOP Association
"I can't help but believe that in the future we will see in the United States and throughout the Western World an increasing trend toward the next logical step, employee ownership. It is a path that befits a free people." President Ronald Reagan, fortieth President of the United States, Speech on Project Economic Justice