H-E-B to give employees an ownership stake.
H-E-B to give employees an ownership stake.
By Vicki Vaughan November 2, 2015
Updated: 10:41pm
While Charles Butt and his family will remain in place as the primary owners of grocery powerhouse H-E-B, the family plans to reward 55,000 employees with a stock grant Jan. 1, with a goal of building that up to a 15 percent stake in the company.
H-E-B is the largest private employer in Texas, with annual sales of $23 billion. It has 370 stores — 318 in Texas and 52 in Mexico. Because it's privately held, H-E-B stock isn't traded on any exchanges.
Although H-E-B believes that the stock grant plan "is quite rare in the retail industry," company President and Chief Operating Officer Craig Boyan said, the company can look to other regional grocers as models, including the larger Florida-based grocery chain Publix Super Markets.
Under H-E-B's plan, eligible employees will receive a stock grant valued at 3 percent of their salary Jan. 1. The stock grant will be augmented with $100 in stock for each year of an employee's continuous service completed by the end of 2015, the company said. Store managers met with workers in a series of meetings explaining the benefit.
Store managers and corporate leaders, in town over the weekend to celebrate H-E-B's 110th anniversary, heard the news first in a Friday meeting at in ballroom C of the Convention Center.
"You may not realize how valuable you are," Chairman and CEO Charles Butt told the company's leaders in a video presentation, "but I surely do." The video presentation also was played at individual store meetings held to announce the program to employees.
After the noon meeting at Marketplace H-E-B at Bandera Road and Loop 410, 41-year company veteran Martha Vallejo said, "I can't believe it. It's shocking. I'm so proud of my company. I knew we were having a meeting. I figured it was just a bonus, but not stocks. I'm amazed."
Emmy Aguirre, 54, a cashier and 14-year veteran, said the stock plan "gives me a lot of hope for my future." And Albert Palmer, who joined H-E-B 34 years ago, said the stock plan "is going to provide an opportunity for my kids and grandkids. I wanted to put money aside to send my grandkids to college, but I never did that. Now I can."
At the Monday meetings, employees also were told they'll receive $100 in cash, to be paid in about two weeks, as part of the company's 110th anniversary.
Butt, 77, whose grandmother founded the company in Kerrville in 1905, said creating an employee ownership plan "has been my dream for decades."
When he told the gathering of 1,800 who packed the ballroom that "55,000 will be stockholders in H-E-B," there was a moment of silence before his next words were drowned out by applause and the clanging of cowbells that had been handed out as part of the anniversary celebration.
In the video shown to store managers, Butt said his grandmother, Florence Butt, arrived in Texas broke and with a sick husband. Through her "true grit," he said, she eventually made the store a success, aided by her youngest son, Howard, Butt's father. "My dad had no growth plan," Butt said, "but he had his mother's determination" and was an entrepreneur willing to take risks.
Today, H-E-B is the nation's 15th-largest private employer, according to a 2015 ranking by Forbes.
Butt said the stock grant is a way to hold on to the company's culture, to maintain focus on the bottom line, and to hire and retain the best people.
He said his nephews, Howard Butt III and Stephen Butt, support the employee stock ownership plan. Howard Butt leads the development of the company's division in Mexico, while Stephen Butt heads Dallas-based Central Market.
To be eligible for the stock grant, an H-E-B employee must be at least 21, have completed at least one year of service and have worked at least 1,000 hours in the calendar year. That works out to an average of about 20 hours a week. Under those guidelines, 64 percent of the company's 86,000 Texas employees automatically will become stockholders in the company in January.
Eligible employees also will receive dividends on their holdings.
The plan won't require employees to make a contribution, but the stock can't be traded or sold.
"This is probably the most important thing to happen at H-E-B in a heck of a long time," said Boyan, the president and chief operating officer. Employees will "know of the confidence that the company has in them and the financial benefits that go along with that."
The hope is that the stock grant will enhance customers' feeling that "when you walk into an H-E-B, you feel the spirit of H-E-B partners — a group of people who are proud of the company they work for and of the jobs they're doing," he said.
The company aims to hand out a 3 percent stock grant every year to eligible employees, Boyan said, but the percentage will vary based on H-E-B's performance.
While there's no firm date to reach its goal of employees owning 15 percent of the company, "we've had outside actuaries look at this, and I can say they estimate that we'll reach that level in a reasonable period of time," he said.
The company said the stock grant will be an institutionalized program for H-E-B. "There will be new shareholders every year and partners leaving the program, so a balance can be maintained," Winell Herron, group vice president for public affairs, said in an emailed comment. "We expect this to get us to the 15 percent ownership range over the foreseeable future. We also anticipate continued growth and improved earnings as a result of the plan."
H-E-B common stock will be contributed to the stock plan, which is a form of a tax-qualified plan that has long-term accounts and is funded through a trust, Herron said in an email. The stock contributions will be made to the plan's trust for the benefit of the eligible employees. The stock contribution is allocated to accounts set up for the participating employees under the trust, she said.
LOCAL BUSINESS
Criminal charges have been dropped against former Windcrest City Manager Ronnie Cain in connection with Rackspace's purchase of the former Windsor Park Mall. Charges dropped against Windcrest's ex-city manager Nicole Marion sorts packages at a FedEx center Houston. The center will process about 45,000 packages on any given day between Thanksgiving and Christmas. Cyber Monday marks start of busy season for shipping companies The cost of two turtle doves rose 11.5 percent, according to the 32nd annual PNC Wealth Management Christmas Price Index released Monday. Monday marks the 32nd year that the Pittsburgh-based bank tracks inflation by pricing the cost of the items listed in the "The Twelve Days of Christmas" carol. '12 Days of Christmas' items a tad pricier Robert Raymond, 85, had a good life, working hard and enjoying his marriage to Claire. But they have exhausted all their savings in caring for her medical needs. He is living in the Potiker Family Residences building in San Diego with help from several senior assistance organizations. "We didn't end up this way being careless, blowing all our money at the casino," he said. Losing your life savings to long-term care Shell Oil Co.;s Marvin Odum (left) speaks at a University of Houston symposium. He'd rather see a carbon tax than many of the alternatives. Commentary: One key piece in climate change battle will be Shoppers leave the Apple store Sunday Nov. 29, 2015 at The Shops at La Cantera Clicking may have outpaced brick-and-mortar shopping Roberton Williams planned to retire on his government pension and take a part-time job to make up the difference in salary. But he's still working full time at his post-retirement job at the Tax Policy Center. According to the Bureau of Labor Statistics, 17.7 percent of people 65 and older are still working in some capacity, compared with 11.7 percent in 1995. Older workers seeking options for reducing hours on the job
The employee's account will continue to hold H-E-B stock and include annual allocations throughout the employee's tenure at the company. Stock in the account will be credited with any dividends payable on H-E-B's common stock and thus add to the value of the employee's account, she said.
When an employee leaves H-E-B, his or her account will be converted out of H-E-B stock and the proceeds reinvested in a separate diversified fund that doesn't hold H-E-B stock. At the end of the next year, the former employee can elect to receive the value of the diversified account in cash, Herron said.
But retirees and those who become disabled will receive the benefit right away, as will the family at the time of an employee's death.
While participating employees have an interest in company stock, "they don't share in profits directly," Herron said, but the company's profitability will affect the stock's value.
Because H-E-B isn't selling stock to its employees, it isn't subject to Securities and Exchange Commission reporting requirements, Herron said.
In addition, a trust counts as one owner, said Corey Rosen, founder of the nonprofit National Center for Employee Ownership. That could help H-E-B avoid having to release financial information to the SEC, which only regulates companies with more than 2,000 owners.
Also, the SEC only regulates companies that sell stock, he said, reaffirming Herron's comments, and H-E-B is giving it away.
About 31,000 H-E-B employees don't meet the company's qualifications for the stock plan. For most of them, H-E-B officials say, it's because they aren't yet 21 — a requirement under the Employee Retirement Income Security Act, a federal law that sets minimum standards for retirement plans in private industry.
The company's 9,000 employees in Mexico also aren't eligible for the plan because of the constraints of the U.S. law.
The stock grant isn't tied to a succession plan. "It's entirely focused on Charles' dream — that he always wanted to share ownership with his employees," Boyan said. "There is nothing about them (the Butt family) stepping away or stepping down."
Nor is the stock grant organized so as to achieve tax savings. "The amount that gets allowed (to the plan) costs the company money," Boyan said. "So it's a cost to the company. We get a tax deduction for that expense, just as there's a tax benefit in any compensation program. (But) it's an amount you spend that reduces the amount of money you earn on your income statement."
The stock grant "is really a gift from the family, who are the primary shareholders of H-E-B, to the partners at H-E-B," Boyan said.
H-E-B officials also emphasized that the stock grant won't replace other compensation programs, including its 401(k) plan. H-E-B currently contributes $1.60 for every $1 contribution an employee makes.
"The 401(k) is our mainstay," general counsel Judy Lindquist told store managers Friday, "and we want to encourage partners to continue to participate."
Butt's move to give employees ownership in the company began in 2002, when he contacted Lindquist, then a consultant at Hewitt Associates LLC, where she focused on compensation and retirement program strategy and design. She joined H-E-B that year and is a key architect of the stock plan.
H-E-B won't be the only grocery company with employees having an ownership stake. It won't even be the largest.
Florida-based Publix, which is bigger than H-E-B, has a larger base of employees who participate in its ownership plan, Boyan said. And although employees started out as partial owners shortly after the chain began in 1930, they now are majority owners.
Publix "has an employee stock plan, and they're one of the best-performing retailers in the country," he said. "We admire that company greatly."
But for H-E-B to announce a plan under which 55,000 employees will be immediately eligible "is unique, I think. We think this is one of the largest ever family-owned stock plans of its kind in terms of the number of employees."
Credit: http://www.expressnews.com/business/local/article/H-E-B-to-give-employees-an-ownership-stake-6605442.php?t=4529765634&cmpid=email-premium
Staff Writer Richard Webner contributed to this report.
About The Blog
Multi-Author Blog (MAB) featuring relevant articles by leading scholars and experts in the field of Inclusive Capitalism and Economic Democracy.
Purchase THE 3rd WAY

THE 3rd WAY will show you and your family the powerful secrets the top 1% know regarding how wealth is best obtained in the 21st century.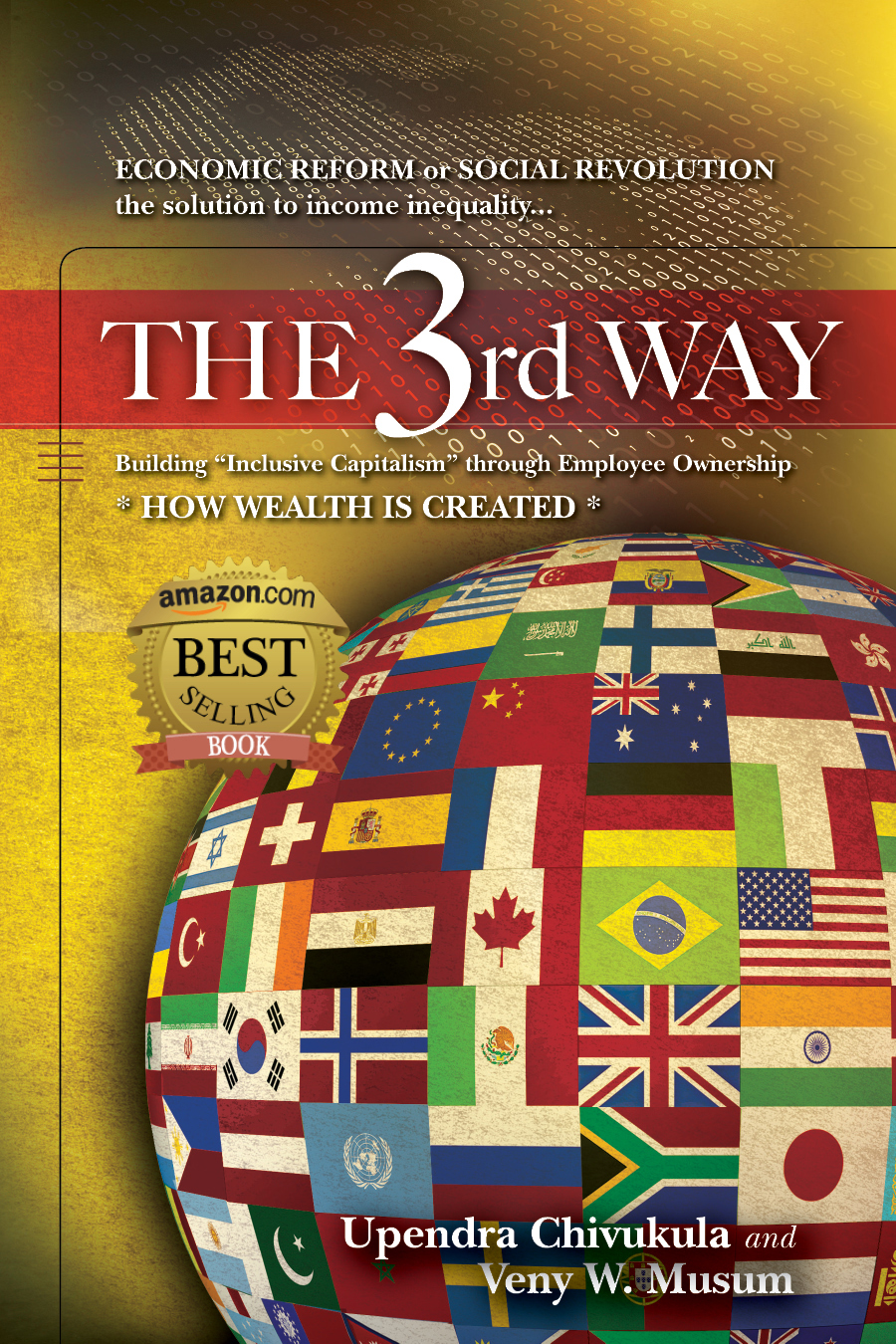 Learn how Congress can finally help the middle class of American. Click…