Income inequality solutions offered by Basking Ridge author
By W. JACOB PERRY, Staff Writer, The Bernardsville News
BERNARDS TWP. – A growing gap between the rich and poor has become a hot topic in the 2016 Presidential election, and a new book co-authored by a township resident offers solutions to the issue that are drawing praise from prominent officials and economists.
"THE 3rd WAY," written by Veny W. Musum of Basking Ridge and former state Assemblyman Upendra Chivukula, D-Somerset, Middlesex, follows neither conservative nor liberal dogma in laying out a diagnosis and cure.  It proposes a more "inclusive capitalism" in which government would encourage businesses to share assets with their workforce.
The bulk of wealth in today's economy derives not from wages but from capital assets like stock and real estate, Musum said in an interview on Friday, Jan. 29.  As  result, he said the wealthiest 1 percent have seen their wealth increase by up to 275 percent in recent years while the average person has seen no increase at all.
"The rich are getting richer," said Musum, a longtime member of the local Republican Municipal Committee.  "There's no doubt, and it's getting worse and worse.  The reason is capital."
Under the solution offered in "THE 3rd WAY," businesses would establish employee stock ownership plans (ESOPs) that would allow their workers to acquire capital shares without depleting their own savings.  That would provide the workers with capital income to supplement their wages.
"It's a common sense idea," Musum asserted.  He said about 10,000 American businesses with some 15 million workers already have ESOPs.
"Their business metrics are better," he said.  "They have less layoffs, their profits, sales and productivity are up and absenteeism is down because the workers are now highly motivated.  They have a financial stake in the company."
Musum viewed the idea as non-partisan, noting that he is a Republican and Chivukula is a Democrat.  In fact, he said the supporters of employee ownership have ranged from former President Ronald Reagan to Sen. Bernie Sanders, D-Vt.
"When you have Bernie Sanders and Ronald Reagan agreeing on the same thing, you might have something," he said.
Praise for "THE 3rd WAY" has been equally diverse.  The book lists plaudits from former state Assembly Speaker Sheila Oliver, D-Essex, U.S. Rep. Dan Rohrabacher, R-Calif., who was a speechwriter for President Reagan, former ADT Inc. chairman and CEO Ray Carey, and Harvard University economics professor Richard B. Freeman.
While books about economics are sometimes considered bedtime reading for all the wrong reasons, Musum said he and Chivukula "wrote the book for the common man."
Musum, 60, formerly worked in private industry in the hair-care market, first as a district manager for Clairol, Inc., and then as senior vice president for John Paul Mitchell Systems in Beverly Hills, Calif.  Chivukula, 65, of Franklin Township, is an information technology company executive who served in state Assembly from 2002 to 2014.
Musum and Chivukula have been friends for several years, and they began working on the book three to four years ago.  The book is 259 pages.
"We did a tremendous amount of research," Musum said.   "I knew there had to be something better than what we have now."  But "we don't want big-government, top-down redistribution.  That doesn't work.
"Upendra says capitalism needs more capitalists," he added, referring to his co-author.  "Nearly 50 percent of the people own no capital, and then you wonder why people are angry."
The book portrays "inclusive capitalism" as the only real choice when weighed against two alternatives – "socialist redistribution" and "concentrated capitalism."
Musum said that in 1776, 95 percent of American production was from labor, and only 5 percent from capital, which was mostly land.  Today, he said, 90 percent of production is from capital – a change he attributed to advances in technology.
"This is why people's wages are not going up," he argued.  He characterized the focus on raising the minimum wage as "pathetic," saying "it's not addressing the other side of the equation.  Capital is where the money is.
"All the millionaires and billionaires already know what's in our book," he continued.  "It's the poor and the middle class who don't know, and they're getting slaughtered, and something has to be done because they're getting angry.  Everyone has to have a piece of the pie."
As an incentive, the authors suggest cutting the corporate tax rate by up to 50 percent but only for businesses that agree to share their equity with workers.  In impoverished inner cities, the corporate rate reduction could be as great as 100 percent.
"We don't want to limit the wealth of anyone," Musum stressed.  "We celebrate wealth.  We just want everyone else to get in on it, to enjoy the wealth created by public and private corporations."
In spite of the book's impressive endorsements, Musum said any impact will be in the hands of the average reader.
"It has to come from the people," he said.  "Politicians don't lead, they follow. You have to inform the people, and the people inform the politicians, and that's what we think will happen here."
About The Blog
Multi-Author Blog (MAB) featuring relevant articles by leading scholars and experts in the field of Inclusive Capitalism and Economic Democracy.
Purchase THE 3rd WAY

THE 3rd WAY will show you and your family the powerful secrets the top 1% know regarding how wealth is best obtained in the 21st century.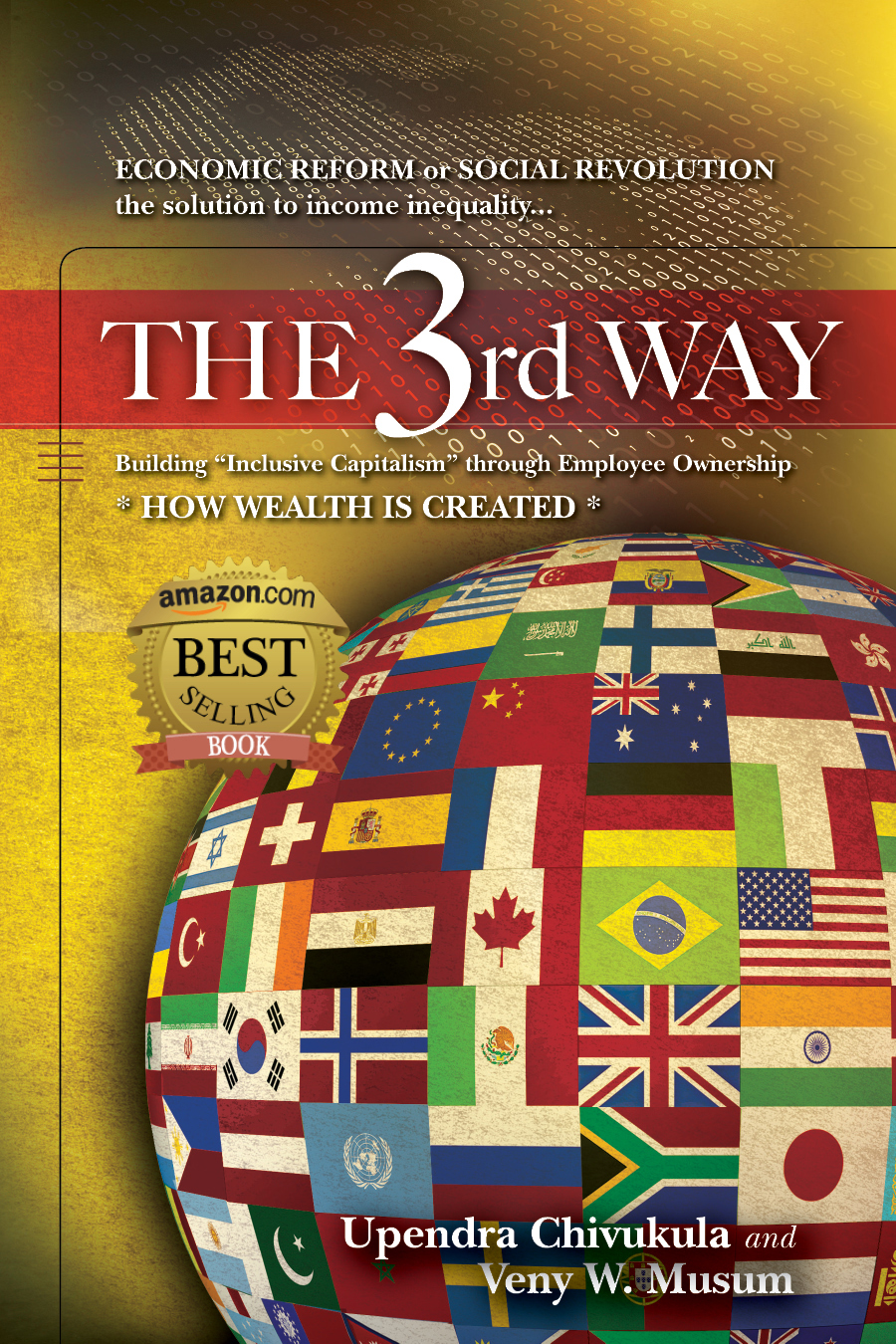 Learn how Congress can finally help the middle class of American. Click…